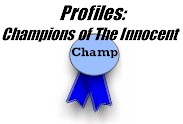 ---
Previous Champions of the month:
Volume 1 Issue 1: Jim Thomas for Wayne Cservak and Lesra Martin for "Hurricane" Carter.
Volume 1 Issue 2: Martin Yant
Volume 1 Issue 4: Michelle Fox
Volume 1 Issue 5: Michael Banks and George Cooney, Jr.
Volume 1 Issue 6: Chris Brown
Champions of the Innocent are few and far between. Most wrongly imprisoned people go begging for years for someone -- anyone -- to take the time to look into their claims of innocence and help them with money, legal expertise, or publicity. The whole world should be grateful to those whose consciences were stirred to action in behalf of an innocent in prison. As a nation, we are impoverished each time a great wrong (a wrongful conviction is among the worst wrongs) is committed against an innocent. Innocent people have been doomed to the death penalty, and many went to their graves, killed by the state in the name of us all, begging for help. It's wounding to know that our system is so badly flawed, that wrongs are routine.
Champions of the Innocent is a feature we will publish each month to show you that hard work can pay off by giving back someone's life -- and an immense satisfaction to those who did the "right thing." We hope to encourage and inspire you to reach out and be counted with the champions.
In future issues, you will read of Nick Peters, just a man who's never had a problem himself of being wronged by the system, but whose conscience was aroused when he began to read of injustices. His work for the innocent is simple and humble, yet extremely effective: he collects the material from inmates and writes it out so others may see a person's case easily without wading through reams of documents.
Champions come at all levels. From simply writing to a prisoner who needs a friend, to those, like Beverly George and Bobbie Isbell, who "get the story out there," and everything in between. Primarily, "Champions" are those who care and who do what little or much they can to right a wrong.
If you are inspired to help, contact us. Everything, from writing letters, lending your talent to our effort, funding the search for justice, and even praying for innocents is welcome. You can be a "Champion of the Innocent."
The Staff at Justice: Denied
©Justice: Denied