Mistaken Identity Leads To False Murder Conviction - The Thomas R. James Story

By Thomas R. James

Edited by Karyse Phillips, JD Editor


Justice:Denied
magazine, Issue 27, Winter 2005, page 6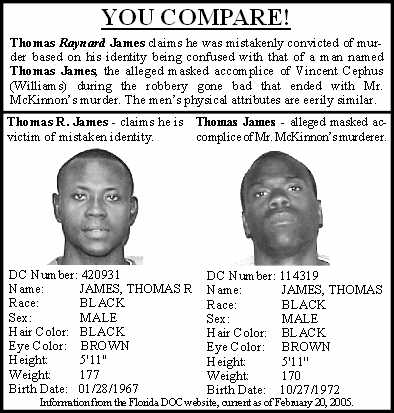 Is it possible that having the same first and last name as a person who participated in a murder cause you to spend the rest of your life in prison? The answer is yes - and I am living proof.
I am Thomas Raynard James better known as "Jay." I am serving a life sentence for armed robbery, first degree murder, armed burglary, and aggravated assault. However I had nothing to do with those crimes. I was charged, tried and convicted of them because I have the same name as the man identified as the perpetrator - Thomas James.
On the evening of January 17, 1990, at approximately 7:10 p.m., two assailants entered the residence of Francis and Ethra McKinnon at 135 South Dixie Highway, apt. 110, in Coconut Grove, Florida, to commit armed robbery. Also present was their daughter and son-in-law, (Dorothy and John Walton), and two kids from the neighborhood, (Lance Jacques and a girl, Josie). Mr. McKinnon emerged from the bedroom and was shot to death.
One of the assailants wore a mask to conceal his identity. He didn't possess a weapon, and was generally described as 6'-0" tall, one hundred and seventy pounds, and seventeen or eighteen years of age.
The other assailant was the gunman. He didn't wear a mask, but he did wear a hat and shorts. He was generally described as much shorter, 5'-4" or 5'-5" tall, weighing over two hundred pounds, with short, fat, stubby fingers.
After the shot was fired the assailants abruptly fled the scene into the surrounding area of Coconut Grove, but not before being spotted by area residents, who recognized the unmasked gunman as Vincent "Dog" Williams (aka Vincent Cephus). His name was provided to the police, along with that of Thomas James, a neighborhood friend of "Dog's" and his partner in crime.
Since "Dog" didn't wear a mask he was positively identified by witnesses who knew him as the robber with the gun. However when the police sought to discover Thomas James' identity, my photo came up because my name is Thomas Raynard James. Thus began the identity mix-up that resulted in my predicament. I am not the Thomas James who ran with "Dog," or aided him in the attack of January 17, 1990, yet I was charged, tried and convicted, not as his accomplice, but as the person with the gun!
Its also important that I was not charged with this crime until six months later. Detective Kelvin Connelly stated he was satisfied with the identification of me as the assailant "Thomas James," the day after the crime by Dorothy Walton and Larry Miller. The prosecution had a tactical advantage by delaying my arrest, because I was unable to provide an alibi for exactly where I was or who I was with on the evening of the crime six months earlier.
There was no physical evidence to link me to the crime. Fingerprints were found, but they were not mine. I was linked to the crime by the testimony of one of the victims - Dorothy Walton - that was full of inconsistencies and insubstantial statements. I will discuss some of those statements along with the reason they are incorrect.
"My back was to the door and I was doodling on a piece of paper. I saw the gunman when he entered shouting 'get down.' I could see my mother on the sofa, but didn't see the two kids sitting besides my mother." However, there are many things that Mrs. Walton doesn't notice. She doesn't know how or when her husband came into the kitchen from where he sat in the living room across from her mother. She didn't see the gunman take money out of the can that was sitting on the table in front of her mother, put it In his pocket and throw the can on the floor. She was staring at the gunman's face so intently he asked her "what are you looking at?" She did not see any gold teeth. She was also looking at his hands, the gun in it. She described his hand as being short, fat and stubby, although she said the gunman never lifted any of the items out of her purse with the other hand, somehow she was able to see which items he was touching from where she was on the floor. She didn't see the gunman get money out of her purse. She was also watching the masked robber at the front door. Keep in mind that Mrs. Walton claims she simultaneously saw all of this while in fear for her life - the masked robber at the door, her mother on the sofa, her husband with the gun to his head, the gunman's face, the gun, his hands, what he touched in her purse - from where she lay on the floor! Yet she did not see him get money out of the can or from her purse, she did not see gold teeth in the gunman's mouth, didn't see the shot fired, failed to observe not one but two kids on the sofa with her mother. I only point all of this out in order to emphasize the fallibility of eyewitness testimony.
After first picking someone else as the person with the gun, hat and shorts Larry Miller picked my photo. Then at my trial he did not identify me as one of the two men, which was consistent with him initially picking another person's photo. He was told after he picked my photo that he had picked the same person as Mrs. Walton. He then told her that they picked the same picture. Which erased any doubt she may have had.
Mrs. McKinnon testified at trial but did not identify me. Furthermore, none of the following deposition testimony was brought out at trial: She said Thomas James' mother is Mary the daughter of Mamie Lee Walls who was her sister-in-law. She also stated her daughter knows Mary and her family just like she does. Mrs. McKinnon was asked how did she know who did committed the crime? She stated "his mother told me and the other one she called "Dog," his right name is Vincent Cephus."

Could this be the reason Thomas James wore a mask? Or are these just mere coincidences? Thomas James and "Dog" have addresses on record that show they lived a block apart in the Coconut Grove area. Thomas James is now serving a life sentence for an armed robbery that took place in the same area. His visitor's list shows his mother's name is Mary. He was born 10-27-72, so in 1990 he was the very age described by the witnesses. Also keep in mind his face was covered.

The positive identification of the robber Thomas James' mother as Mary is critical, because my mother's name is Doris Bailey. Furthermore, unlike the mother of "Dog's" crime partner, my mother has never lived in Ft. Valley, Georgia, or the southwest section of Dade Co.

My trial attorney, public defender Owen Chin did not call any of the witnesses who would have established the defense of mistaken identity and my innocence. Nor did he investigate potentially favorable witnesses that the State provided.

Cheryl Holcom stated she was hiding behind a car after seeing the robbers enter. After the shot was fired she saw Lance and Josie run out of the apartment. Her testimony would have corroborated the fact that there were two kids in the house and contradicted Mrs. Walton's testimony as to who, and what she saw.

Lance Jacques stated he was sitting on the sofa with Mrs. McKinnon and Josie when he saw the robbers enter. He also saw the shooter take the money out of the can that was on the table in front of the sofa and then throw the can on the floor. The can would have the shooter's fingerprints on it, but there is no known record it was tested. He said the shooter had an upper left front gold tooth and a lower right gold tooth. He is the only person who actually saw the murderer shoot Mr. McKinnon. Had he testified he too would have exonerated me and cast doubt on the State's case that was based on Mrs. Walton's testimony.

Regina Ortiz stated she ran out to her balcony after hearing the shot and saw "Dog" running away from the scene holding a gun and wearing a hat. She knew him and had seen him at Pinkney's Grocery. She also stated that her nephew Lance was inside the apartment. Had she testified she too would have exonerated me.

Joy Thomson stated she was hanging out clothes when she saw "Dog" and another person running through the alley. She too identified "Dog" as the one with the gun and hat. She too would have exonerated me from the crime.

John Walton, had he testified, would have exonerated me as not being the person who held the gun to his head. He also would have contradicted his wife's testimony that she saw all she claims she did, because he said she was face down, while he was looking at the gunman. (Note: None of the adults in the apartment were shown "Dog's" photo!)

My lawyer could have called Doris Bailey to the stand to ascertain if she lived in Ft. Valley, Georgia, if she knew the McKinnon's or Walton's, if her mother's name was Mamie Lee Walls, and if she is my mother. He also could have requested a live line-up, in addition to investigating "Dog" and Thomas James to learn if they had ever been arrested together. He did not challenge or attempt to impeach perjured and inconsistent testimony presented by the prosecution. He should have also introduced dental records to prove my teeth are different then Lance Jacques description of the shooter's teeth. He waited until his closing argument to try and inform the jury that my small thin hands didn't match the description of the shooter's fat fingers.

Though my lawyer was well aware of these facts, he failed to use it to present the defense of mistaken identity, especially since the State's case relied on the inconsistent testimony of one unreliable witness - Dorothy Walton.

My case is procedurally barred because my lawyer was aware of all the aforementioned facts and deposition testimony. I did not learn of it until almost five years later, after a judge granted me access to the witness depositions. It can't be called newly discovered evidence because my counsel knew about it but kept it from me, the judge, and most importantly the jury. Had the jury known of these facts, a not guilty verdict was inevitable!

It should also be pointed out that the prosecutors went ahead with my prosecution although they knew of the evidence establishing my innocence.

My lawyer's performance was so inadequate that Thomas James and "Dog" took not one life, but two lives, because the same bullet that killed Mr. McKinnon's life also claimed my life!

The Thomas James involved in the murder of Mr. McKin-non was sentenced to life in prison on March 4, 1996. He was sentenced on that day for convictions of four different serious crimes that were similar to the one that resulted in Mr. McKinnon's death:
Robbery with a deadly weapon on March 9, 1991
Aggravated assault with a deadly weapon (gun) on April 21, 1991
Robbery with a deadly weapon on April 30, 1991
Robbery with a deadly weapon (gun) and grand theft auto on December 31, 1993.
Case #90-23928, Police 30848K
The innocent: Thomas Raynard James FL DOC #420931
The masked man: Thomas James FL DOC #114319


The gunman: Vincent "Dog" Williams, aka Vincent Cephus (Released from prison on Oct. 27, 2004 after serving an 11 year sentence for aggravated battery with a deadly weapon (gun).



If you can aid me, please contact me at:
Thomas James 420931
Everglades Correctional Inst. C1-215U
P.O. Box 949000
Miami, Fl 33194-9000

My outside contact is my mother:
Doris Bailey
2766 N.W. 59th St.
Miami, Fl 33142