Ken Marsh Exonerated of Murder on September 3, 2004 after 21 Years of Wrongful Imprisonment
By Hans Sherrer
Justice:Denied magazine, Issue 26, Fall 2004, page 10
K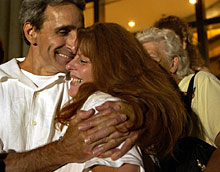 en Marsh and Brenda Buell-Warter at his release from 21 years of wrongful imprisonment
In 1983 Ken Marsh was convicted of murdering Phillip Buell, his girlfriend's 2-year-old son, and sentenced to life in prison. The prosecution's case relied on doctors at Children's Hospital in San Diego who examined Phillip, and testified his head injuries were caused by abuse. Marsh claimed he had never harmed Phillip, and that he found him injured after he had fallen onto the fireplace hearth from the back of a couch. (See, Toddler's Accidental Death Ends With Babysitter's Murder Conviction - The Ken Marsh Story, Justice:Denied, Issue 25, Summer 2004, p. 4)
By 2002 Marsh had been imprisoned for 19 years and his direct appeal and a petition for post-conviction relief had long since been denied.
However Phillip's mother, Brenda Buell-Warter, had professed her belief in Marsh's innocence from the time of his arrest. She continued working on his behalf after his conviction and imprisonment. Over a period of many years she was able to amass forensic medical evidence from nationally renowned experts proving - contrary to the testimony of the doctors - that her son's injuries were consistent with those that could be expected from his head striking the fireplace after falling from the back of the couch. That is exactly what Marsh told police investigating the child's death. Furthermore, those medical findings were consistent with the original investigation by the San Diego Police Department. In somewhat of an oddity, Marsh was prosecuted for Phillip's murder based on the findings of the hospital's doctors, even though the police investigation determined his death was accidental.
Escondido attorney Tracy Emblem worked for a number of years pro bono on behalf of Marsh. In October 2002, Emblem, in conjunction with the California Innocence Project at the California Western School of Law in San Diego, filed a 185 page Petition For Writ of Habeas Corpus with the California Court of Appeal. The Petition included the declarations of seven experts whose analysis of various aspects of Ken's case supported his innocence. The petition also included a declaration by San Diego Homicide Detective Armijo - who originally investigated Phillip's death - that he believed Marsh to be innocent.
On August 4, 2004, San Diego DA Bonnie Dumanis announced that she agreed Ken Marsh's habeas corpus petition for a new trial should be granted. Dumanis made the decision based on an independent evaluation of the medical evidence by a Florida forensic pathologist who was "unable to conclude beyond a reasonable doubt or to a reasonable degree of medical certainty that [Phillip Buell] was a victim of child abuse." After 21 years of imprisonment, Ken Marsh's conviction was reversed on August 10th, and he was released that same day on his own recognizance pending a retrial.
On September 3, 2004, DA Dumanis announced she was dropping the charges against Marsh. In a court hearing that afternoon lasting about one minute, San Diego Superior Court Judge Deddeh granted the DA's dismissal motion.
In 1983 Ken Marsh was sentenced at the age of 28 to spend his natural life in prison. That is likely to have happened without the continuous efforts of Brenda Buell-Warter for almost a quarter of a century to clear him of murdering her young son. Six days after Marsh's release, the two announced to the world while being interviewed on Larry King Live that they would marry on October 30, 2004.
Source: Charges are dismissed in 1983 death, John Wilkens, San Diego Union-Tribune, September 4, 2004.
For extensive details about Ken Marsh's case, see, Toddler's Accidental Death Ends With Babysitter's Murder Conviction - The Ken Marsh Story, Justice:Denied, Issue 25, Summer 2004, p. 4.