Freeing The Innocent:
How We Did It
By Michael and Becky Pardue
The Justice Institute, 2004, $18
Review by Hans Sherrer
Justice:Denied magazine, Issue 26, page 7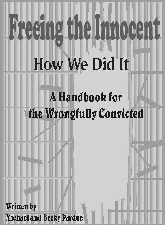 In February 2001 Michael Pardue walked out of an Alabama state prison after 28 years of wrongful imprisonment. He had been in prison since 1973, when at the age of 17 he was convicted of three murders he did not commit, and was sentenced to life in prison.
Instrumental in Michael's exonerations and eventual release was his wife Becky. They had begun corresponding in 1983 and she became convinced of his innocence. When they married in 1988, Michael's prospects for not dying in prison looked bleak. However they vowed to try. Working initially as a two person team, and later aided by a growing array of supporters in this and other countries, all three murder convictions were successfully vacated, and the way was paved for Michael's release after years of effort. What made Michael's release all the more remarkable is he wasn't exonerated the easy way by having DNA evidence exclude him - because there wasn't any DNA testable evidence in his case. So he had to be exonerated the old fashioned way: Plain hard work was necessary to dig for evidence in the trenches of court and newspaper files and interviewing people.
The injustice of Michael's bogus murder convictions and imprisonment was publicized by newspapers and magazines and television programs, so people around the world knew of his plight. When he was released, that notoriety contributed to the Pardue's inundation with requests for help by people claiming innocence, or their family members or friends. Lacking the resources or time to help with individual cases of wrongful conviction, the Pardue's decided to write a handbook to help give guidance to the wrongly convicted and his or her supporters. The handbook would explain the tactics and strategies that accomplished what at one time looked as daunting a task as climbing Mount Everest did to Sir Edmund Hillary in 1952: Reversing three false murder convictions and winning Michael's release.
The result of Michael and Becky's brainstorming is Freeing The Innocent: How We Did It. They have written an industrial strength no nonsense one of kind book aimed at accomplishing one objective - helping a wrongly convicted person out of his or her horrific predicament. On page 76 they write:
"There are few things worse than being wrongfully imprisoned. Once you are caught inside the mindless and slowly grinding machine of the judiciary you will have a most difficult time getting out. That is the simple and sad truth. The good news is that there are many options for winning your freedom. Not a single one of them is fast, but they worked for us."
In their more than 50,000 word book, the Pardue's cover what worked for them in four broad areas.
Part I covers what Becky and others did "On the Outside" to help free Michael.

Part II covers what Michael did "On the Inside" to help free himself.

Part III covers how the efforts of Michael's outside supporters coalesced with what he did on the inside to help in "Fighting the System and Winning."

The Appendix is titled "Legal Research," and it covers many of the legal aspects of working to undo a wrongful conviction.
Part I, among other things, has many valuable insights on how and where to search for new evidence, as well as where to look for clues about how it might be located. It also explains the important role of publicity, ways of generating it, the right and wrong times to seek it, and that contrary to the popular adage - all publicity isn't necessarily good as long as the names are spelled right. It also gives sound suggestions on when to use a lawyer and/or a private investigator, and some guidelines to selecting one to minimize the possibility of throwing one's money away on a shyster.
Part II, among other things, sets out Michael's many insights for people on the inside on how he stayed focused - through the many dark days (even with Becky in his life) - on the goal of striving for his exoneration and release from prison. Among Michael's many valuable pieces of advice for an innocent person, is to avoid the temptation to "admit" guilt for a crime he or she didn't commit, in an effort to be released on parole or via some other early release program. That is because if the person's conviction is later vacated, that admission will be used by the authorities to try and foreclose the possibility of collecting damages. This caution is expanded on in Part III.
Part III, among other things, provides suggestions on many legal aspects of a wrongfully convicted person's case. It discusses for example, such things as the use of jailhouse lawyers, what to expect from lower courts, and negotiating with prosecutors, etc. Part II's caution about succumbing to the temptation of falsely admitting guilt in an effort to secure an early release is expanded on by explaining what happened to John Duval. Wrongly convicted - along with his innocent co-defendant Betty Tyson - in New York state of murder in 1973, Duval twice falsely admitted guilt for the murder during parole board proceedings. Ironically, he was denied parole both times so the false confessions didn't do him any good. In the mid-1990s, a newspaper investigation into their case uncovered evidence of their innocence. After Duval's conviction was vacated in 1998 based on the new evidence, he was retried on the basis of his multiple admissions of guilt to the parole board. The prosecution's primary evidence was those admissions, and in acquitting him, his jurors apparently understood the despair that drove him to make them. However in spite of his acquittal and release from prison, Duval's ill-advised admissions of guilt precluded him from collecting compensation for his wrongful imprisonment. In contrast, Duval's co-defendant Tyson had maintained her innocence from the time of her arrest in 1973. After her conviction was vacated based on the new evidence, the prosecution dropped the charges and she was released in 1998. She subsequently settled her wrongful imprisonment lawsuit for $1.25 million.
The Appendix provides useful nuts and bolts legal related information, such as how to identify the important issues in a case and how to structure legal arguments in support of those issues to preserve them for review by state appellate and federal courts, the ins-and-outs of the appeal process, and some commonsense ideas for prisoners, such as getting used to neatly handwriting all legal paperwork, so that all court deadlines can be met, regardless of being without a typewriter, such as when in segregation or during transportation.
The Pardue's know what they are writing about, and Freeing The Innocent is an invaluable guide for an innocent person and his or her supporters seeking sound guidance on how to go about undoing a wrongful conviction. The experience of Alan and Francine Yurko provides independent confirmation of the common sense value of Freeing The Innocent. Michael Pardue was still in prison when the Yurko's began working as a team to overturn Alan's wrongful conviction in 1998 of murdering his infant son. However, they intuitively employed many of the tactics and strategies outlined in the Pardue's book. Those efforts paid off when Alan's first degree murder conviction was vacated on August 27, 2004, after almost 7 years of wrongful imprisonment. (See: Alan Yurko's Murder Conviction is Vacated!, on page 10 of this issue of Justice:Denied, Issue 26, Fall 2004)