Convicted on the Basis of Scientific Tests Which Were
Never Performed - The Robert Lee Norris Story
By Robert Lee Norris
Edited by Natalie Smith Parra, JD Editor
Justice:Denied magazine, Issue 25, page 3
On October 15, 1992, a 16 year-old white female raised the claim of rape and kidnapping against me. Her name is Sheila Knutty.
Sheila was a troubled youth, involved in substantial gang activity and on probation. She was under threat of being locked up until she turned 21 years-old as a result of her passion for older black men, her unruly behavior and her contempt for authority.
Sheila's was a common face in the black community. Nightly she would sneak out of her house and walk several miles to a high crime, drug-infested community park on the north east side of Canton, Ohio with her girlfriend Heather.
Drugs and alcohol were always the common denominator in whether or not Sheila climbed between the sheets and she wasn't overly discriminatory as to whom or how many men she slept with, just as long as she could get high. This, of course, seemed, at least for a good portion of my summer of 1992, a worthy exchange, as Sheila was good looking and had a good figure. Her aggressive attitude combined with her looks made it easy for her to pass herself off as being 18 years old and by doing so she had access to many opportunities that, had her real age been known, would surely not have occurred.
I was one of those opportunities. I had money and Sheila was a repeat visitor to wherever I called her from. It can be said that Sheila and I maintained a prostitute-trick relationship. I enjoyed the sex; she was obviously there for the money.
Nonetheless, Sheila was merely one of many women I was seeing, though of all of them, my relationship with her possessed no candy coating; We both knew exactly what it was: sex on call and neither of us had any problem with that.
I called Sheila and asked her if she wanted to spend the night and she said, "Yes, come and get me," and told me where to pick her up. Kimberly and I went from Massillon to Canton to pick her up. We met her as agreed at the 76 gas station on the corner of Harrison Ave. and Route 30 in Canton at approximately 6:50 p.m. on October 15, 1992. Kimberly and I were roommates at the time. Kimberly was raising two small children.
The three of us returned to Kimberly's residence at approximately 7:20 p.m., and upon our arrival, Sheila almost immediately said that she had to go to the projects and insisted on walking there. I argued, "Then why in the f*** did you want me to come and get you?" She simply walked out the door at approximately 7:30 p.m.
Several minutes later Gary Taylor, who also lived in the house with us, arrived. We brought in a six-pack of beer. Kimberly and I were on the couch and he asked if I wanted a beer and since I don't drink I refused, as did Kimberly. Gary drank two beers and then went upstairs, took a shower and went to bed. Sheila was not there when he arrived and he didn't see her in the house until the following morning.
Kimberly and I had sexual relations over the next several hours. At approximately midnight Sheila began knocking on the back door. She was drunk and staggering. She had been dropped off by several men, one named Beef, the other Mad Dog. They were known dope boys who were referred to as Detroit Boys, some of the many men who came to Canton and Massillon from Detroit to sell crack cocaine.
Because Sheila was my responsibility I asked Kim if we could use her bed and she said yes. Sheila and I went upstairs. Sheila said that she absolutely had to be home by 7:00 a.m., so I set the alarm for what I thought was 6:10 a.m. After Sheila and I went upstairs, I didn't see Kimberly for the rest of the night. Sheila and I undressed and went to bed. She wore only a pair of black string panties and we began touching. However, on slipping my hand beneath her panties I quickly discovered that she was a mess, not having bothered to clean herself after having sex with Lord only knows who. I yelled, "You nasty bitch." I wiped my hand on the top sheet and then went to the bathroom to wash.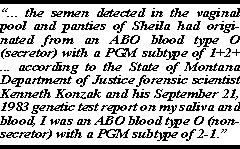 The state of Ohio offered that Sheila and I had arrived at the house at approximately 7:30 p.m. and that I took her to an upstairs bedroom where we began smoking crack while she posed in her underwear. The state said I forced Sheila to smoke crack by putting one of my hands over her mouth and the other over her nose. It is important to note that no drugs of any kind were detected in anyone's blood or urine. The state alleged that I tied up Sheila with yarn, and that Kimberly and I repeatedly raped Sheila for 12 hours. The medical testimony did not support the occurrence of such a sexual episode, finding instead that there was no redness or swelling in the vaginal area. The examining physician at Aultman Hospital in Canton refused to indicate in his diagnosis that Sheila was a rape victim.
A big problem with the state's case is that Gary Taylor didn't see Sheila between 7:30 and 8:00 p.m. the evening before and in the grand jury testimony Sheila stated that she didn't see Gary until breakfast the following morning. Gary also said there was no noise the entire night, no indication of anyone going in or coming out of the residence to buy crack cocaine, and furthermore, that neither he nor Kimberly knew anyone who used cocaine. He also told the police that in the morning, "Some blond girl came down the steps with Bobby and Kim followed." Gary said that he said hello and Sheila returned the greeting. He said that Sheila ate some toast and drank some coffee, and that Sheila, Kimberly and I left in Kimberly's car at about 7:25 a.m.
Sheila asked Kim to drop her off at a girlfriend's house because she was in trouble for not waking up in time to get back to Canton by 7:00 a.m. We dropped her off at the residence of Alisha Muldonaldo and Alisha's mother, Bambi. Based on Sheila's trial testimony she went into the residence, ate, called her boyfriend and then made an allegation of being raped. Sheila would not allow Bambi to take her to Massillon City Hospital for examination nor would she permit her to take her to Doctor's Hospital, but insisted on being taken all the way back to Canton's Aultman Hospital.
The problem is that in America police detectives often have first dibs in such circumstances. An unruly youngster on probation often spends time face down in a detective's crotch in alleys. An attractive young blue-eyed blond who sleeps with black men is a golden opportunity for an unscrupulous police detective.
I'm not so naïve. I played the game and know first hand that, but for prostitutes skirting arrest in the front seat of a police car, a lot of cops would be jackin' to playboy. Sheila then was the property of Canton City police detective Lester Baroni. She was his snitch, his part-time sex object, but most of all she was his bait. He'd send her into dope houses and high crime black areas of the city to gather intelligence in exchange for her warrants being allegedly repeatedly slid to the bottom of the pile. This is what the police do. A white female who sleeps with black men is trash in the eyes of law enforcement, so the cops use these girls to gather evidence and intelligence, because, after all, they deserve what they get.
Baroni's middle name was corruption. He was a mob-boy, as is detective Armondo and was determined to put me away for life. To do this he used Sheila to gain my trust and that was easy. He sent her on a mission to have sex with me and then scream rape. The problem is; however, Sheila wasn't the brightest candle in the universe. She didn't know that the presence of semen alone was not enough and she didn't know that scientific tests would be taken to establish the actual source of the semen. She also didn't know that I wouldn't cop a plea for a shorter sentence when in fact I am innocent.
I was arrested on November 2, 1992 and indicted by a grand jury charging kidnap and rape on November 12, 1992. I was in custody with a female co-defendant, Kimberly Southall, for the alleged kidnap and rape of Sheila Knutty. The nightmare had begun.
In January of 1993, detective Baroni collected hair, saliva and blood samples from me at the Stark County jail for comparison testing to the semen collected from the vaginal pool and panties of Sheila Knutty. On January 21 and January 27 of 1993 respectively, the criminologist Michele M. Mitchell of the Canton-Stark County Crime Laboratory, a police laboratory, allegedly tested those biological samples. Those tests revealed that Sheila was an ABO blood type O (secretor) with a PGM subtype of 1+. The tests revealed that I am an ABO blood type O (secretor) with a PGM subtype of 1+2+ and that the semen detected in the vaginal pool and panties of Sheila had originated from an ABO blood type O (secretor) with a PGM subtype of 1+2+. The semen matched despite the fact that I had not had sexual intercourse with Sheila at any time in October 1992. More importantly, I knew that, according to the State of Montana Department of Justice forensic scientist Kenneth Konzak and his September 21, 1983 genetic test report on my saliva and blood, I was an ABO blood type O (non-secretor) with a PGM subtype of 2-1.
As a PGM 2-1 I would be automatically excluded from a vaginal pool semen mixture of PGM 1+ and 2+. With this knowledge I requested that the state prosecutors Maureen Walsh and Kristine Rohrer of the Stark County Prosecuting Attorney's Office in Canton Ohio, pursuant to the provisions of Brady v. Maryland, disclose all exculpatory or impeachment evidence and, specifically, to produce and disclose all exculpatory scientific and medical test results in this case.
Walsh and Rohrer repeatedly denied the existence of any exculpatory or impeachment evidence. I kept silent about the existence of the Montana report because I simply did not trust my lawyers. I had retained three different lawyers to represent Kimberly and me, and in each case the lawyers secretly and repeatedly sought to convince Kimberly to change her statement to the police and to become a state's witness against me. Kimberly simply would not lie even to save herself. She was released on a $100,000 signature bond on February 3, 1999. She and I were compelled, because of being plagued with ineffective assistance of counsel coupled with the court's refusal to appoint us a private investigator, to pursue the evidence for our defense ourselves.
The police knew this to be true and within hours of Kimberly's release from the county jail she received a telephone call from a man named Gerald Harris who claimed that he had spoken to Sheila Knutty and had recorded some exculpatory statements that he wanted to turn over to Kimberly if she would meet with him.
Unknowingly, Kimberly met with him and was then forced at knifepoint to a secluded area where she was raped and robbed. After the attack she went directly to the Massillon City Hospital and was examined. Semen was collected from her.
A few hours later the police caught up with Harris and he admitted having sex with Kimberly. He still had the knife in his coat; the police did not take it. He told the police that Kimberly had given him the money and dropped him off at a friend's address.
The Massillon City Prosecutor refused to file any charges against Harris so Kimberly, along with the outraged Stark County NAACP President, went to the clerk's office and swore out independent felony complaints alleging rape, kidnapping, aggravated robbery and felonious assault. Harris was still never arrested and weeks later, even after Harris made a series of threats against Kimberly, the Massillon City Prosecutor said that he could not find sufficient probable cause to arrest Harris and that he would not pursue the charges alleged on the felony complaints because Kimberly could not be a rape victim and a defendant in a rape case at the same time.
Days later Kimberly attempted suicide and was hospitalized at the Massillon City Hospital. It is important to note that before these incidents, Kimberly had never had so much as a traffic ticket in her life and the effect of the totality of these worsening circumstances were more than she could stand.
On July 19, 1993 a jury trial commenced. The state's case consisted of: the examining physician from Aultman Hospital, Massillon Police Detective Schnell, Sheila Knutty, Patricia Knutty (Sheila's mother), and Michele M. Mitchell, Criminologist of Canton-Stark County Crime Laboratory.
The defense was unable to call a single witness because we were not advised of the trial date until the actual day of trial. We were at a hearing on July 19, 1993 and at the close of the hearing, without notice the trial commenced over our strenuous objection.
The examining physician testified that he had never seen so much motile semen, though he couldn't explain why he didn't diagnose Sheila as an alleged rape victim in his medical reports. Detective Schnell testified that there was not sufficient probable cause to arrest Kimberly and myself or for that matter to even get a search warrant. He explained that probable cause means a reasonable basis to believe that a crime had in fact occurred. He said that probable cause did not exist based on Sheila's conflicting accounts of the incident and the fact that she had identified four different houses in which the alleged rape took place. Sheila herself testified that she "doesn't always tell the truth," and admitted that she was on probation. She admitted that she was not permitted to leave Canton Ohio, wasn't permitted to drive a car or to associate with anyone not approved by her probation officer. She additionally said that she would have been in serious trouble for staying out all night and then surprisingly said that she had told her mother, who didn't believe her story about being raped to "Get the f*** out of the hospital."
Sheila testified that she had enlisted the help of her girlfriend and her girlfriend's mother to lie to her mother so that she could get out of the house to meet me that night. She said that she was supposed to pick up a new car and keep it at her residence until the following day when she was supposed to give that car to my daughter.
Sheila explained that a tiny scratch on her chest came from a pair of scissors allegedly used in the attack, but she could not explain a large grapefruit sized bruise on the inside of her right thigh four inches above the knee. She said that she was forced to smoke crack cocaine, but was unable to detail the effect of doing so. She said that her legs were tied together with yarn during the course of the attack; yet there were no injuries or marks anywhere on her legs, ankles or anywhere else.
Patricia Knutty testified that Sheila was an unruly child and that she had previously run away from home resulting in her photo being placed in local stores. She was caught and placed in a detention home where she concocted a story that she was pregnant and had been abducted in order to gain her release from there. Both Sheila's mother and Sheila openly admitted that Sheila lies to get out of trouble.
The state's case was a mess because the prosecution had to rely on the scientific testimony to link Kimberly and myself to this alleged crime. On Thursday July 22, 1993 the criminologist was called to the stand and testified that she performed a variety of scientific tests, and that I was the source of semen and injury complained of. The criminologist testified that she performed Lewis antigen and electrophoresis testing which yielded the PGM subtype results listed above; however, newly discovered evidence including an affidavit from Robert Budgate, the laboratory director, dated 11-24-99 irrefutably demonstrates that the laboratory never possessed any electrophoresis or Lewis antigen test machinery at anytime from 1980 through and including 1999. In fact, Ohio University didn't even offer electrophoresis and Lewis antigen training in its four year Bachelor of Science Degree.
When confronted with the Montana repot that the prosecution stipulated to, therein showing me to be an ABO blood type O, non secretor, with a PGM subtype 2-1 and therefore excluded as a suspect in this case, the trial was halted. It was, however, resumed on Saturday July 24, 1993. At the Saturday trial the criminologist testified that the PGM 2-1 that the Montana report had listed me as, was a "type" and that despite the fact that PGM subtypes are listed in plus and minus the Montana report should not be read as a 2 minus 1, but rather as a 2 dash l.
The criminologist then revealed that she had performed a first test that indicated that I was a non-secretor but she had never turned that test result over to the defense because "80 percent of these people are secretors; therefore, we listed Mr. Norris as an ABO blood type and a secretor."
The United States Court of Appeals for the Sixth Circuit ruled in 1998, Norris v. Schotten, 146 F. 3d 314, that while the criminologist never had a second saliva sample on which to perform the alleged second test and that the criminologist never performed Lewis antigen testing and that despite the fact that the criminologist's testimony could be impeached in various ways, there appears to be no Constitutional error.
A Federal District Court, in Akron Ohio, ruled on April 5, 2001, in Southall v. Cooper, that the new evidence establishes that the electrophoresis testing never in fact occurred and yet the convictions of Kimberly and I remain for the want of justice.
The refusal of the court's thus far to give us relief on our wrongful convictions is compounded by the failure of the Ohio Parole Board to abide by the law and release me after completion of my sentence.
In 1995, two federal courts in a habeas corpus proceeding dropped each of my rape counts and sentenced me to a single prison term for the remaining count alleging kidnapping. The court said I was sentenced for "Fifteen to 25 years or until paroled, pardoned or released according to law" for the kidnapping charge.
The kidnapping charge however is an aggravated felony of the second degree, possessing a maximum penalty of fifteen years. I was denied parole on July 3, 2003, even though I had fully discharged that maximum penalty months before the July 3, 2003 parole hearing. However, the parole board simply refused to open that file. Instead, the parole board stated that I was being held on the basis of a July 9, 1998 nunc pro tunc resentencing order, which had never been signed by any judge and never recorded by the Stark County Clerk of Courts. Simply stated, the order isn't worth the paper it's printed on.
I was placed in segregation on August 25, 2003 and seven weeks later transferred to Richland Correctional Institution, where I have been raising "a million dollars worth of hell!"
Kimberly Southall, my co-defendant was released on parole on October 1, 2003. She was wrongly imprisoned for more than 10 years.
On May 3, 2004 I filed a state petition for a writ of habeas corpus in the Richland County Common Pleas Court before Judge DeWeese, challenging my continued and unconstitutional confinement. The judge rejected the multiple unappealed federal judgments, finding clearly to the contrary that my sentence was and is 45 to 75 years.
I appealed immediately to the Richland County Fifth Appellate Court. In that action I requested that the federal court declare with certainty its judgments and its res judicata effect on the state courts. In addition, I sought a stay of the state court proceedings, which was denied by Judge F. Boggins of the Fifth Appellate Court and then I sought a stay of the state court in the federal court proceedings.
The Ohio Attorney General's Office all of a sudden abandoned all reference to and dependency on the non-journalized and unsigned nunc pro tunc resentencing order.
It is important to note that in the federal action, The Assistant United States Attorney General has simply failed to file any answer or response in that action and the U.S. District Court clerk entered their default on June 23, 2004.
I filed a formalized Motion for Default Judgment on July 1, 2004 and as of now ain't nobody saying nothing about nothing. Imagine that?
If it weren't enough that I am actually innocent and that I have over sixteen months ago discharged the maximum authorized penalty for kidnapping as charged in my indictment and I still remain in prison being transferred from one facility to the next as prison officials seek to avoid personal liability.
They have already been served with certified copies of my indictment, arraignment transcript and jury verdict, but even the Ohio Adult Parole Authority recognized that it doesn't end with freedom when it comes to me. Instead, the parole board said, "Some people fight and end up spending the rest of their lives in prison."
I told them I'd rather die for a principle than live without one. They then sent me another eight years in the mail.
All in all, Kimberly's out, and that's all that truly matters. Justice has continued to elude me, but God willing, they will eventually straighten their hand after all these years.
Thank you, and I can be contacted at:.
Robert Lee Norris #281-431
Richland Correctional Institution
PO Box 8107
Marion, OH 44901
Robert is writing a book about his case. He is in need of a publisher and asks that anyone who can assist him to please contact him.
web site: www.innocentinmates.org
e-mail: rleenorris@innocentinmates.org