Arcadia

and the Twenty Year Effort to Exonerate James Joseph Richardson

By Hans Sherrer

For

Justice:Denied

magazine

(December 2008)


In the fall of 1967 a nationally reported news story was the sudden deaths of seven family members, aged 2 to 8, in the small southern Florida town of Arcadia.

All seven of 31-year-old James Joseph Richardson's children and step-children became violently ill-shortly after eating lunch on October 25, 1967. Within twenty-four hours they were all dead. Richardson and his wife both worked, so next-door neighbor Betsy (Bessie) Reese babysat the Richardson's non-school age children. She fed those children and the older ones when they came home from school at noon, a lunch of rice, beans and cheese that had been prepared early that morning by their mother.

It was believed the children died from poisoning. A day after their deaths, and after the Richardson's house and storage shed had been searched multiple times by the police looking for any clue to what caused the deaths, Reese reported to the police that an open bag of the insecticide parathion had been "found" in the shed by a neighbor, Charlie Smith. The police came and took the bag as evidence, although oddly it was very damp while the shed was bone dry.

Tests of the children's lunch plates, the leftover bowl of breakfast grits, and other items in the kitchen revealed the presence of enough parathion to kill everyone in a large city.

Although Reese was the last adult to handle the plates and food before it was eaten by the children, she was not investigated as a suspect. Instead only the children's father was seriously considered as the poisoner – even though he had not prepared the food, he had left early that morning for where he and his wife were working in a citrus grove 15 miles from Arcadia, and he was at work when told shortly after noon that his children were seriously ill.

Local law enforcement fanned a sensational media frenzy by pointing the finger at Richardson and leaking alleged details, and he was soon arrested on suspicion of committing the murders. Daytona Beach attorney John Robinson became interested in Richardson's case, and he and his partner agreed to represent the lawyerless Richardson pro bono, although they were civil and not criminal lawyers.

Richardson was held without bail, so Robinson decided to file a writ of habeas corpus to secure his release by forcing the prosecutor to admit there was zero evidence against Richardson – only speculation. However, Robinson then made what turned out to be the fateful decision to approach the prosecutor with the offer that if Richardson was released on a reasonable bail the habeas wouldn't be filed. Since there was no evidence tying Richardson to his children's deaths, Robinson figured that once he was released the arrest warrant would be dropped and the Richardsons would be left alone to grieve. The judge acknowledged the flimsiness of the case by authorizing Richardson's release on an unheard of $7,500 bond in a capital case involving a black man's alleged murder of his seven children. The bail bondsman was convinced enough of Richardson's innocence that he waived the bail bond fee.

The prosecution needed evidence, and sure enough, shortly after Richardson's release a prisoner facing criminal charges claimed that Richardson confessed to him. Richardson's bail was revoked and two other prisoners facing charges soon claimed that he also confessed to them. Curiously, Richardson was only indicted for murdering one of his children. The three jailhouse witnesses testified at Richardson's preliminary hearing after which he was remanded for trial.

Richardson's indictment was based on his alleged jailhouse confessions. The prosecution claimed his motive was to collect $500 life insurance on each of his children from a policy he allegedly bought the day before their deaths. In 1966 the U.S. Supreme Court ruled Dr. Sam Sheppard was entitled to a new trial because of prejudicial publicity, and to avoid what could have been a likely reversal if Richardson was convicted in Arcadia, his trial was moved to another county. That didn't help him because it prevented him from getting any jurors who knew him or his reputation in the community and who would have given him a fair shake.

Before Richardson's trial began in May 1968, the judge removed fifteen perspective jurors who were opposed to the death penalty and two who doubted circumstantial evidence was enough to convict someone of murder. In contrast with the removal of those possibly open-minded people, several of the empanelled jurors were former KKK members.

During the trial two of the jailhouse informants testified about what Richardson allegedly told them, and since the third prisoner informant had died, the sheriff was allowed to provide the hearsay testimony of what the prisoner told him Richardson had said. That testimony was the basis of the prosecution's case, since Reese didn't testify, Smith didn't testify, the insurance agent who allegedly sold Richardson the life insurance policies didn't testify, and no one testified that Richardson bought or was ever seen with the bag of parathion.

That didn't prevent the prosecution during its closing from arguing as if that testimony had been given, and that was enough for the all-white jury that had been exposed to months of sensational news stories about the case. They convicted Richardson of murder after an hour of deliberations, and recommended that he be sentenced to death – which the judge did. The jury and judge ignored inconsistencies in the prosecution's case and compelling evidence that Richardson was the wrong person because the parathion in the grits had to have been put there after the family ate breakfast – otherwise they all would have been dead before lunch.

The story faded away and when in Florida for a speaking engagement, attorney and writer Mark Lane's curiosity was aroused by comments that there seemed to be irregularities in the prosecution's case against Richardson. With a few days of free time, Lane drove to Arcadia to poke around and see if Richardson's case was as open and shut as the media had made it seem to be. Lane was a bit of a maverick and had a national reputation because of his 1966 book Rush to Judgment, that challenged the Warren Commission's Report about President John F. Kennedy's murder.

Lane had enough doubts about Richardson's case that he began an intensive investigation that evolved into a book that was titled simply

Arcadia

. Published in January 1970,

Arcadia

details how justice worked in the late 1960s for black folk in a segregated small southern town in which pervasive racism infected all aspects of everyday life.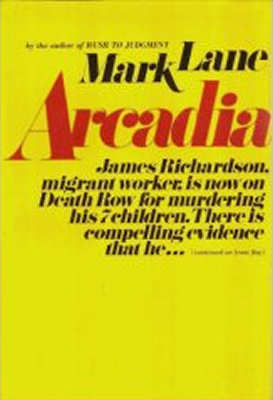 In

Arcadia

Lane intertwines his many interviews and testimony from Richardson's trial to demonstrate that among other things: the jailhouse witnesses almost certainly lied; there was no evidence whatsoever linking Richardson to the parathion found in the shed or to the insecticide in his children's lunch and that was also put in the grits after the family ate breakfast. The picture Arcadia presents is that Richardson's conviction was due to prejudice and unfounded negative publicity that caused the jurors to assume he was guilty without any actual proof.

Lane ends

Arcadia

by recounting his visit to Richardson on Florida's death row at Raiford State Prison. The prison was refusing all media interviews, but as a lawyer Lane was able to see Richardson by accompanying John Robinson as his co-counsel. During that interview Richardson exclaimed, "I don't know who killed my children," and he talked about the day his children died and the events that followed. As the two men were leaving, Richardson earnestly said to Robinson, "I don't know what you can do. I know you is trying with your heart, and I thank you for that and for bring this man [Lane] to see me who I know will try to help me and try to tell the truth. I thank you for everything." Robinson replied, "I am going to get you out of here if I spend every dime I have, if I spend every hour that is left to me. I swear it, James. You are going to walk out of that door." That is where Lane's book ends, with Richardson caught in the limbo land between living and dying known as Death Row.

Richardson's direct appeal was denied in April 1971 and the information Lane uncovered wasn't enough for him to get a new trial. But before Florida was able to execute Richardson the improbable happened – the U.S. Supreme Court declared in the 1972 case of Furman v. Georgia that the procedures used to secure capital convictions and sentences in the U.S. were unconstitutional. Across the country death row prisoners were resentenced, and Richardson resentenced to 25 years to life in prison. So instead of being led to the death chamber Richardson was condemned to likely die in prison.

True to his word Robinson didn't forget about Richardson. In 1980 he hired private investigator Jake Ross to find some of the witnesses in the Richardson case to see if compelling new evidence could be discovered. One of the people Ross located was Charles Smith, who supposedly found the parathion. Ross wrote about his meeting with Smith:

"Mr. Smith told me that he never believed James Richardson killed his children. He indicated that Bessie Reese, a babysitter for the Richardsons, first told him about the case. At the time of the incident, Charlie saw Bessie standing in front of her home and asked her what happened. Bessie told him that the Richardson kids had died from poisoning. Bessie took Charlie to where the insecticide was located in a shed directly behind the Richardson's house. According to Mr. Smith, the insecticide had been opened. Mr. Smith stated that Bessie went directly to the open bag of parathion and said to him, "That's it."

So Richardson's jury wasn't told the truth, it was Reese who found the insecticide, not Smith. Even more important, Reese knew before the lab tests that the children died from parathion poisoning. But that information wasn't enough to seek a new trial.

Although investigation continued sporadically, the big break came in late 1986. Nursing-home employee Brenda Frazier had heard rumors that Reese murdered the Richardson's children, and she asked her, "Did you kill those kids, Betsy?" Reese answered, "Yeah, I did that."

Lane, whose law office was in Washington D.C., learned about Reese's confession. He traveled to Florida and obtained affidavits from Frazier and another nurse who heard Reese's confession. It had been almost nineteen years since

Arcadia

was published, but armed with the new evidence, in August 1988 Lane launched a "Free James Richardson" campaign by staging a rally in Arcadia.

Shortly after the rally a man informed Lane and Robinson that he knew of documents proving Richardson's innocence. In looking through the file from the State Attorney's Office in Arcadia that was mysteriously provided to them, the two lawyers found a treasure trove of exculpatory evidence the prosecution had concealed from Robinson before, during and for two decades after Richardson's trial.

Among the evidence were transcripts of interviews during which the two jailhouse informants who testified at Richardson's trial gave conflicting accounts of his supposed confession. There was also evidence that Richardson did not purchase life insurance policies on his children the day before their deaths, and there was no insurance on them at the time of their deaths. Which means the prosecutor deliberately fabricated a non-existent financial motive for Richardson to commit the murders. There were also the prosecutor's notes about Reese's violent criminal background that the defense didn't know about, and which may have been why the prosecution didn't call her as a witness. When the Richardson's children were murdered Reese was on parole after spending four years in prison for shooting her second husband to death in 1956. Reese was also suspected of murdering her first husband by poisoning him because he mysteriously died after eating a breakfast she had prepared for him. The concealed documents also suggested a revenge motive for Reese: her third husband abandoned her and became involved with Richardson's cousin shortly before the children were murdered. The concealed evidence about Reese's background was consistent with her confession to poisoning the children.

With the new evidence in hand, prominent Miami attorney Ellis Rubin agreed to represent Richardson pro bono. He gained additional evidence when he questioned James Weaver – the only living jailhouse informant against Richardson. In an affidavit Weaver admitted that Richardson never confessed to him.

Armed with the new evidence, on December 15, 1989 Rubin filed with the Florida Supreme Court an "Application For Permission To File Petition For Writ Of Error Coram Nobis To Circuit Court." The petition claimed Richardson was entitled to a new trial based on the prosecution's "Knowing use of perjured testimony; Suppression of evidence by the prosecution so as to constitute fraud; and Newly discovered evidence." Although the State didn't contest the authenticity of the prosecution files that Richardson's attorneys had obtained through unorthodox means, they vigorously opposed the petition. The State's Response wasn't limited by the truth or the facts of the case. It went so far as to falsely claim that Richardson had a financial motive to murder his children for the $500 life insurance policies purchased on each of his children the day before their deaths – when the prosecution's own files proved that no such policies were purchased and there was no insurance on any of the children.

As the petition was being litigated, Richardson's case was once again national news. People magazine published a feature story on March 6, 1989, "Convicted of murdering one of his children, James Richardson hopes the truth will set him free." Under the glare of negative publicity that the State had condemned to death and imprisoned a man for more than 20 years who could be innocent, on February 1, 1989 Florida Governor Bob Martinez appointed Dade County State Attorney (and future Attorney General of the United States) Janet Reno as special prosecutor to examine the case.

While the coram nobis petition was pending Richardson's lawyers filed a motion for a new trial that the Florida Supreme Court authorized the Circuit Court to hear. With Special Prosecutor Reno agreeing after several months of reviewing Richardson's case that he had suffered a miscarriage of justice, on April 25, 1989 his conviction and sentence were vacated and he was granted a new trial. Richardson was released on bail later that day. The state conceded it had no case to retry Richardson when Reno filed a thirty-five page nolle prosse memorandum that detailed the state did not even have enough valid evidence to charge Richardson, much less convict him. The memorandum concluded, "James Richardson was probably wrongfully accused." The murder charge was dismissed on May 5. When told the news the 53-year-old Richardson exclaimed to reporters, "Now I'm free!"

Ironically, almost two months after Richardson's release Florida's Supreme Court denied his petition for coram nobis, ruling that it was only proper for a person released from prison, while a motion for a new trial was the proper remedy for an imprisoned person. The court noted that its ruling was moot for Richardson because his conviction had already been vacated.

After his release from more than 21 years of imprisonment, including four years on death row, Richardson described the feeling, "'It's a pleasure to walk on the beach, see the sunlight, picking up sand and dirt, kicking my feet in the water." He would have died without ever again being able to experience such simple joys of life if it wasn't for the unrelenting efforts of Mark Lane and John Robinson.

Although Lane's book

Arcadia

ends in late 1969 with Richardson on death row, in reading it one can understand the inconsistencies and doubtful nature of the prosecution's case that caused both Lane and Robinson to so fervently believe in Richardson's innocence and work for twenty years to prove it. Their faith was vindicated when the prosecution's concealed files where miraculously handed to them, and the truth set James Richardson free.

Richardson filed a lawsuit against DeSoto County for his wrongful prosecution that was settled for $150,000. Richardson also sold the movie rights to his story for $20,000, but the movie was never made. On August 25, 2008 Richardson, who is now 73 and lives in Kansas, filed a claim under Florida's wrongful conviction compensation law enacted in July 2008. The law provides for $50,000 per year, so if Richardson prevails he could be awarded over $1 million.

Sources:
Mark Lane,

Arcadia

, Holt, Rinehart and Winston, 1970, 287 pages, hardcover (no softcover edition) (out of print)
James Joseph Richardson vs. State of Florida, 546 So. 2d 1037 (Fla. 6/29/1989).
Convicted of murdering one of his children, James Richardson hopes the truth will set him free, People magazine, March 6, 1989.
"Now I'm free," Richardson says – Man accused of killing children will not face new trial, St Petersburg Times, May 6, 1989.
A Man Who Loves Challenges, PI Magazine, Spring 1994.
Richardson seeks redress for wrongful incarceration, Venice Gondolier Sun (Charlotte, FL), September 10, 2008.